Articles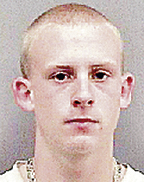 Steven Rose
A Newberry man may be responsible for a string of burglaries that occurred in Newberry and Gainesville over the past few months, according to detectives from the Alachua County Sherriff's Office.
Steven Thomas Rose, 21, of Newberry, was arrested on Monday, Dec. 12 on counts of fraud, burglary, grand theft and dealing in stolen property.
According to the police report, Rose sold an Echo hedge trimmer at TB Goods pawn shop for $75 on Nov. 8. On Nov. 12, Circuit Court Judge Toby Monaco reported having a hedge trimmer, a pole saw pruner and a chain saw stolen from his residence within the past two to three weeks. The serial number of the hedge trimmer that Monaco reported stolen matched that of the one that Rose sold and an employee of the pawn shop was able to identify Rose in a photo line-up.
The police report stated that Rose was employed with Fun State Pools, Inc., the same pool service that Monaco used. A manager of the pool company confirmed that Monaco's house was on Rose's regular route and that he was scheduled to visit the house on the day that the trimmer was sold.
Detective Patrick Tombler said that ACSO is investigating Rose for involvement in as many as 10 to 15 burglaries in Newberry and Gainesville. He said that Rose may have stolen an estimated 200 items to sell at different pawn shops. The majority of the items stolen, he said, were lawn equipment or power tools.