Articles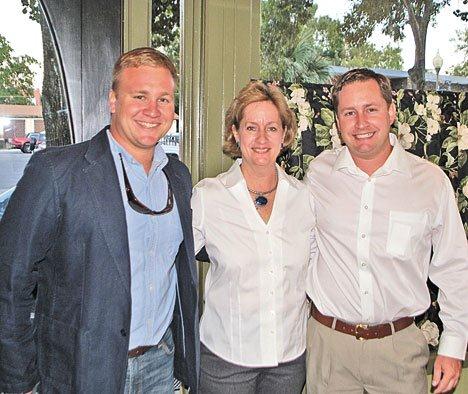 D.W. Aston Catery owner Mary Nell Pittman, shown with her sons, recently welcomed the community with an open house. Pittman formerly operated P'diddles restaurant out of the same location in downtown Alachua.
Ready to host dinners, birthday parties and even corporate meetings, Alachua has a new venue in town. While many traditional catering companies provide out-of-house services, D.W. Ashton Catery gives customers the option of hosting events at their Main Street location.
Owned by Mary Nell Pittman, D.W. Ashton is named after her three children – Drew, Ashley and Clayton. Although though are not actively running the business from day-to-day, Pittman still describes the catery as a family venture.
Formerly P'diddles, a casual restaurant serving salads, sandwiches and a variety of other items, D.W. Ashton is an expansion of an aspect of the business Pittman was already doing.
"We were catering before," Pitman said. "But the catering grew, so I had to make a choice between the two."
Although the choice to strictly do catering was easy, Pittman does miss some aspects of the restaurant business.
"It's the people I miss," said Pittman.
The catering is just as it always was, providing quality food and service to the customers. Pittman's new element is the ability to provide a space for customers to host their events and cater right from her location.
"I really want to introduce the new venue," Pittman explained. "We never offered cater in-house before, so this is a wonderful place for people to be."
The P'diddles restaurant closed in July after being open for five years, and was completely renovated. D.W. Ashton opened with its more formal dining room which can accommodate 50 people for a dinner or 75 people for hors d'oeuvres.
"I enjoy the hors d'oeuvres," said Pittman of her favorite food to cater. "The artichoke dip is one of my favorites. People really like it."
After working for Gainesville's Sweetwater Branch Inn for several years, Pittman knew that catering and food was what she wanted to do.
D.W. Ashton does mostly corporate catering, but Pittman and her staff also cater weddings, dinner and most recently an in-house birthday party. Alachua's newest venue is open to any age, making the location wonderful from young to old.
Their "standards are high and their food delicious," promising to provide a memorable catered experience.
She encourages potential clients to make appointments to see the new space and Pittman assures that the catering experience will be wonderful.
"It is my passion, it has always been," said Pittman.