Columns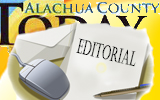 Although much has been said about the sad state of affairs in High Springs, much more could be said. But just as sadly, any explanation would surely not adequately convey just how dire the circumstances.
The ill-advised appointment of Jeri Langman to Interim City Manager should have been a sign that the High Springs Commission was acting in bad faith. It would be akin to smelling smoke and knowing something isn't right.
When the City's engineering firm, attorney, and interim police chief all resigned within a span of a few weeks of each other, that was an indication there was a fire smoldering at City Hall.
The sudden and disquieting resignation of Commissioner Eric May earlier this week was the explosion.
If you live in the quaint city of High Springs, you should know that not only is your city on fire, the flames are licking at your door.
Vice-Mayor Bob Barnas, Commissioner Linda Clark Gestrin and Mayor Dean Davis all claim to be undoing and fixing the mistakes of prior commissions. Nothing could be further from the truth. As a trio, these elected officials have created more problems, upheaval and political unrest than any other commissioners in at least the last decade. High Springs is in throes of a hostile takeover and the residents should be aware that this commission is not acting in your best interests, contrary to any statements otherwise.
The commission's appointment of Langman, one of Barnas' campaign workers, reeks of political insider trading, favors and paybacks. This is evidence enough that there are no checks and balances in High Springs.
And when the political environment crosses the line from the politician to the employee, as in Langman's case, the repercussion can be far reaching. The morale at City Hall is not only at an all-time low, employees are left paralyzed as they fear for their jobs. These employees witnessed what at the very least appears to be cronyism as the interim city manager effectively forced the interim police chief out posthaste and then appointed her friend to police chief without conducting a formal job opening and application process. Furthermore, Langman hastily transferred one longtime employee to a different position in what appears to be another personally motivated act. And the list goes on…
Today the City of High Springs is under the control of a coalition of individuals that is not working on behalf of the residents of High Springs. Scarce city resources are being squandered daily in their quest to further their own agendas of retribution, retaliation and political paybacks. And the few residents who have spoken out have received only lip service laced with platitudes.
Seldom has an entire community fallen so far so quickly at the hands of so few.
High Springs is at a crossroads. It is no longer enough to sit on the sidelines and complain about your community in hopes that someone else will fix it. The responsibility rests on the shoulders of each and every resident of High Springs who truly cares about their community, their quality of life and their future. The strength of a community is in the people, or it should be, not in the hands of a few officials who dictate to others. The residents of the City of High Springs must become active in the local government. Talk to your neighbor. Attend a meeting, ask questions, demand answers and do not accept an answer if it doesn't make sense or you don't agree with it. Be heard, be persistent, and be heard again.
And above all, demand a transparent, ethical and professional commission and city manager. The current ones appear to be lacking all three of these qualities.