Columns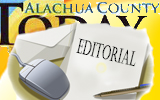 By Rod Smith,
Chairman of the Florida Democratic Party
I am troubled by the Governor's proposed closure of 11 correctional facilities closures which would result in the loss of over a thousand jobs, mostly in rural in north Florida. Governor Rick Scott's decision to close these state prisons was the wrong move at the wrong time and it is again taking our state in the wrong direction.
Gov. Scott contends that this order was about a declining crime rate, something many Republican and Democratic law enforcement officers, prosecutors and law makers, worked very hard to achieve. A major reason for the current decline in the crime rate is that Florida decided to put predators behind bars and keep them there, rather than allow a revolving door correctional system like we had during the 1980s, 1990s and early in this millennium.
As a former State Attorney and Senator, I've seen firsthand the families and communities in rural towns across Florida that will be bear the pain and consequences of Scott's extreme privatization agenda. Many of the correctional facilities slated for closure are the largest employers in these communities and the Governor's plan would prove devastating -- shattering entire economies and forcing families to sell their land and uproot their lives.
Most importantly, the state will put more prisoners in fewer facilities, returning to the days when we minimized the officer population in a way that made prisons less safe for inmates and correctional officers. The net result will put Florida's hardworking officers in greater danger and unjustly award political contributors with the taxpayer's money.
But do not be misled. The real reason for these prison closures as well as the Governor's move toward privatization - which would have already privatized 29 south Florida prisons had the courts not ruled it unlawful - is to award taxpayer dollars to a big political contributor.
Florida Democrats believe in transparency. We believe that people are more important than corporations -- that middle class families who work hard and play by the rules shouldn't suffer so that political contributors can pad their pockets. And it's time someone spoke out against these special interests and spoke up for Florida families.
Rod Smith, of Gainesville, is a former state attorney and senator. He currently serves as Chairman of the Florida Democratic Party.