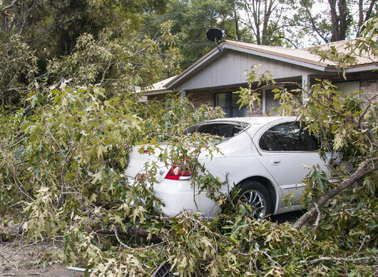 Hurricane Matthew brought rain and wind to Alachua County accompanied by power outages and downed trees. (Today photo/RAY CARSON)
ALACHUA – Last week, Hurricane Matthew tore its way across the Caribbean and up the southeast coast of the United States. It will rank as one of the most powerful storms, based on sustained wind energy and longevity, with winds over 110 mph for seven days. There were at least 925 deaths, including 19 in the United States, making it the deadliest storm since Hurricane Stan in 2005.
But Alachua County was lucky. There were fears and expectations that Florida would get a direct hit, causing wind damage and power outages over most of the state. But as the storm made its way up the coast, it remained between 30 and 50 miles offshore, lessening the damage inland. For Alachua County, it meant that winds of 35 mph with occasional gusts up to 60 and lighter rainfall than predicted. The brunt of storm hit the local area on Friday Oct. 7. Damage was fairly light for the county and mainly confined to downed trees or downed electrical wires.
According to Lieutenant Brandon Kutner of the Alachua Sheriffs Office, they received 56 calls for downed power lines and 80 calls for downed trees. Although there were sporadic power outages, most of the lines were repaired by Saturday morning. The High Springs Police department received 20 calls, mainly for downed power lines due to falling tree limbs. According to High Springs City Manager Ed Booth, they did have one large tree that fell across the road at 176th Place. It blocked the road and damaged three cars. City crews were able to clear the road by Saturday morning.
The Alachua Fire Department reported no calls or damage reports, as did the LaCrosse Fire Department. In Waldo, City Manager Kim Worley said that they had reports of downed trees, but no power outages. Hawthorne Mayor Matthew Surrency reported they fared well. "We had a couple of power lines go down and power outages to about 5 percent of our residents, but it was resolved quickly. It was a lot less than we feared, but we had services in place," said Surrency. "It was good to have a dry run to see how well we were prepared."
Matthew hugged the southeast coast from Florida to North Carolina, causing 2 million people to evacuate inland, tearing up coastal cities with wind and storm surge. The storm surge destroyed State Road A1A in Flager Beach and surged inland in Saint Augustine, flooding the historic downtown with several feet of water. Over a million people were left without power in Florida alone.
The storm made landfall near Charleston, South Carolina, but had weakened from a Category 4 storm to a Category 2. But the tide and storm surge was still devastating, especially to the outer banks of North Carolina, with surges over six feet high. Estimates on the damage for insured loses range between $4 - $6 billion.
# # #
Email Rcarson@
alachuatoday.com
Add a comment
Add a comment
GAINESVILLE/WALDO – A head-on collision at the 6900 block of Northeast 39th Avenue resulted in the death of two area women on Sunday, Sept. 18.
The Gainesville Police Department (GPD) received multiple reports of a serious crash at 6:40 p.m. An Alachua County Sheriff's Office deputy arrived on the scene as the calls came in. Initial reports indicated that a head-on collision had occurred with one person ejected from a vehicle.
A preliminary investigation revealed that a 2010 gray Toyota Corolla, driven by 28-year-old Brittany Nichole Griswell, Gainesville, was westbound on Northeast 39th Avenue. She was in a long curve east of Gainesville Regional Airport when her vehicle left the roadway. Griswell over-corrected, went back onto the roadway and lost control of her car.
Griswell's car continued westbound into the eastbound lane and struck a 2015 grey Nissan Sentra, driven by 52-year-old Drenda Dale Weaver of Waldo, head-on. Weaver was pronounced dead at the scene.
Griswell was ejected from her vehicle and was transported to a local hospital in very serious condition. "Griswell did not make it through the night and passed away," said GPD Officer Ben Tobias late Monday night.
A full Traffic Homicide Investigation is ongoing. "It is unknown at this time if drugs or alcohol were involved," said Tobias.
# # #
Cwalker@
alachuatoday.com
Add a comment
Add a comment
NEWBERRY – Upgrades to the City of Newberry's fire station received approval at the Aug. 22 commission meeting following a presentation by Facilities Supervisor Travis Parker.
Parker said the main changes included the addition of an ambulance bay and modifications to the sleeping quarters.
Other changes include relocation of the fire chief's office, and in future, that space will be the office and sleeping quarters for the lieutenant. Currently, the open sleeping quarters area has room for four beds. Renovations will increase the bed capacity to five and allow for more privacy.
The changes are expected to increase the overall size of the facility to 2,270 sq. ft., including the ambulance bay.
In an effort to move the project along, Parker told commissioners he already advertised for bid, but said he could add any changes the commission might want to make. Hearing no changes, the plans will move ahead to a bid opening Sept. 14 and a request for acceptance of the winning bid at the commission meeting of Sept. 26.
Parker estimated it will take 180 days for construction, which means the project should be completed by late March 2017.
The City's firefighters have offered to perform some of the construction work to help save the City time and money in updating the facility, said City Manager Mike New. "Who knew we had so many contractors working as firefighters," he said with a chuckle.
The ambulance bay is estimated to cost approximately $70,000, with the balance of the fire station renovations estimated at $215,000, said New.
# # #
Email Cwalker@
alachuatoday.com
Add a comment
Add a comment
NEWBERRY – A 48-year-old Newberry man lost his life late Saturday evening in a single-vehicle accident.
According to a Florida Highway Patrol (FHP) report, Tracy Eugene Tindall was driving his white 2005 Ford F-150 pick-up truck, traveling north on U.S. Highway 27, four miles south of Newberry, at 10:45 p.m.
For unknown reasons, Tindall's truck veered off the roadway onto the left (westernmost) sloped shoulder where its front left side side-swiped a large tree, impacting the entire left side of the vehicle's cab and encroaching heavily into the driver's side door and truck compartment, tearing the door off the frame.
The truck was then induced into a sharp, counter-clockwise rotation, where it then came to rest in the adjacent tree line.
During the course of the rotation, Tindall's unbelted body was partially ejected from the compromised driver's side door, and was found adjacent to it.
Alachua County Fire Rescue responded to the scene of the collision and pronounced Tindall dead upon their arrival. The investigation into the crash is ongoing.
At this time, FHP has not determined whether alcohol was a factor in the crash.
# # #
Email Cwalker@
alachuatoday.com
Add a comment
Add a comment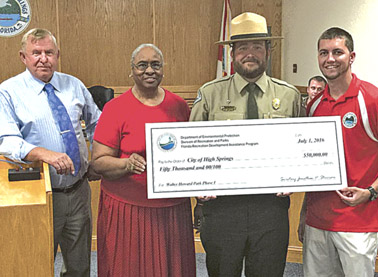 Photo special to Alachua County Today
A check for Phase 1 of the $50,000 grant for the upgrades to the Walter Howard Park was presented to the City of High Springs. L-R: High Springs City Manager Ed Booth, Vice-Mayor Gloria James, O'Leno State Park Manager George Paxton (holding check) and High Springs Recreation Director Robert Basford.
HIGH SPRINGS – O'Leno State Park Manager George Paxton was on hand at Thursday's High Springs City Commission Meeting to present a check for $50,000 from the Florida Recreation Development Assistance Program (FRDAP). The grant is for Phase 1 of the Walter Howard Park upgrades.
In other city business, the City's Building Inspector, Scott Thomason, introduced some minor changes to the Code of Ordinances to update some of the fees for the Building Department's services. Although the changes are "modest," Thomason hopes they will bring High Springs in line with some of the other municipalities in the region with similar populations.
"We want to make sure our department is self-sustaining," said Thomason. "There are some services we provide that needed to be clarified, and we have hopefully done that with this new list of updated municipal fees."
There are no fee increases associated with fire inspection services at this time, said Thomason.
Builders should be able to apply and pay on line for the services they want from the City's Building Department soon.
"Our software company is working on this and we hope to have it operational in the next couple of weeks," said Thomason. It is expected to help streamline the department's ability to serve the builders in that community.
Commissioners approved a contract to continue to have Carol Rowan manage the Farmers' Market for another year.
Mittauer & Associates, Inc. received a thumbs-up from commissioners to design, permit and construct a pump station and install a force main to connect Camp Kulaqua to the City's wastewater system. A Suwannee River Water Management District grant in the amount of $250,000 has been awarded for this project. Mittauer is expected to receive approximately $50,000 for their portion of the work.
# # #
Email Cwalker@
alachuatoday.com
Add a comment
Add a comment