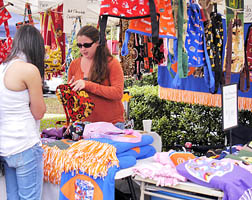 It was two days of holiday gifts, food and more at the High Springs New Century Woman's Club as vendors showcased their wares Friday and Saturday at the club's 2nd annual Holiday Expo
HIGH SPRINGS – The High Springs New Century Woman's Club opened their doors Friday and Saturday to bargain hunters who wanted to get a head-start on their holiday shopping. The club's Holiday Expo was in full swing on Friday, Nov. 18, from 3 p.m. to 8 p.m. and Saturday, Nov. 19, from 11 a.m. to 4 p.m. Vendors offered unique gifts, baked goods, candies, decorations and a multitude of goodies for gift giving. In all, 21 vendors were on hand presenting a wide variety of items just in time for holiday festivities
This marked the 2nd Annual Holiday Expo put on by the club, but there were major changes this year. Last year's event lasted only one day, and participating vendors requested this year's be expanded to two days. The club, whose membership stands at around 50, starts planning in the summer for the expo, contacting vendors and assigning duties.
Booths were set up inside the building, which was constructed in 1925, and overflowed onto the front lawn along 1st Avenue. From carefully handcrafted items, to aromatic candles, to cosmetics, to homemade canned goods, jewelry, handcrafted pottery, woodwork, hydroponic plants and more, the expo had something for everyone. And this included food and drinks.
For barbeque lovers there were tangy barbeque sandwiches and for the adventurous, Frito pies were available as well. The spicy chili layered over taco chips and then smothered in melted cheese was a popular comfort food Saturday for customers and club members alike. Followed up with home baked desserts, the fare was certain to have satisfied appetites.
The festive atmosphere was only heightened by the 10 sparkling gift baskets lined up neatly in a row, each filled with unique items ranging from scented soaps to holiday books to candies and handcrafted items. A drawing was held at 3 p.m. Saturday to determine the lucky winners of the baskets.
The Holiday Expo is just one of many fundraising events the club holds throughout the year. The club supports activities at the High Springs Community School, assists the Ronald McDonald House, the American Cancer Society, Catholic Charities and the Military Support Group. They have adopted a family for Christmas, which was identified through Catholic Charities, by helping to ensure the day is joyful for each member of the family. Other efforts include sending holiday cards to the troops and participating in Relay for Life.
Their next big event will be participating in the High Springs Christmas Parade on Dec. 10, and raising money by selling cookies along the parade route.