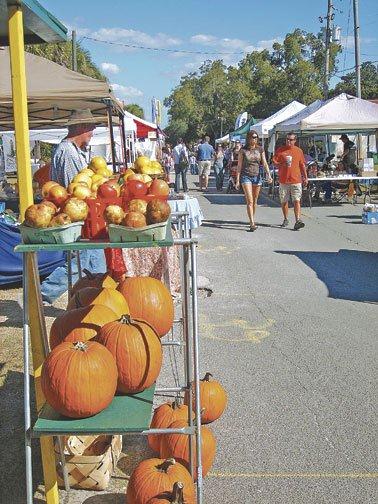 The Newberry Main Street Organization was named Florida Main Street Program of the Month for November 2010.
Florida Main Street is a technical assistance program of the Bureau of Historic Preservation, which is part of the Florida Department of State's Division of Historical Resources. As part of the Bureau of Historic Preservation, Florida Main Street focuses on preserving the state's historic retail districts.
"Newberry Main Street has proven that historic preservation is an achievable goal for small towns and communities," said Interim Secretary of State Dawn K. Roberts in a Nov.5 press release.
According to the Florida Department of State, Newberry has benefitted from 162 public and private reinvestments, 37 new businesses, 108 new jobs and 4,800 volunteer hours since it became a Main Street community.
This is the second time that Newberry has received this honor since it was designated a Main Street community in 2006. The first was in 2008. Selection for the award is based on active participation in the Florida Main Street program.
"With so many of Florida's historical resources located in small towns like Newberry, the Florida Main Street program has worked to identify and assist these communities in preserving their historical, cultural and architectural heritage," Roberts said.
Newberry has also been recognized as a model of a successful Main Street community in a 2010 study called Economic Impacts of Historical Preservation in Florida. The report, which was published by the Center for Governmental Responsibility at the University of Florida and the Center for Urban Policy Research at Rutgers University, focused on rehabilitation, heritage tourism, history museums, the Florida Main Street program and historic preservation grants.
The study found that historical preservation benefits the state of Florida by creating jobs, contributing to tax collections and bringing in millions of tourists. It also determined that properties in historic districts maintain value better than those in non-historic districts.
According to the report, the Florida Main Street program is bringing historic downtown areas back to life.
"Investments through the Florida Main Street program are revitalizing historic downtowns and original commercial corridors, thus bringing citizens, visitors and dollars back to the heart of communities throughout the state," it said.
The study spotlighted Newberry Main Street as a newer program that has accomplished a lot in a short period of time. It cited efforts to incorporate local business owners and host downtown activities such as the Fall Market Festival and Friday Fling as reasons for its success.
"I am very honored that Newberry Main Street and the City of Newberry was one of eight out of the 50 plus Main Streets to be included in the study," said Barbara Hendrix, Newberry Main Street manager.
Hendrix said that the study can be used to recruit businesses to the area, attract visitors and encourage property owners to improve their historical properties.
"This shows that we are on the right track and we are going in the right direction of historical preservation by working to rehabilitate the historical district and the Main Street designated district in the city of Newberry," she said.