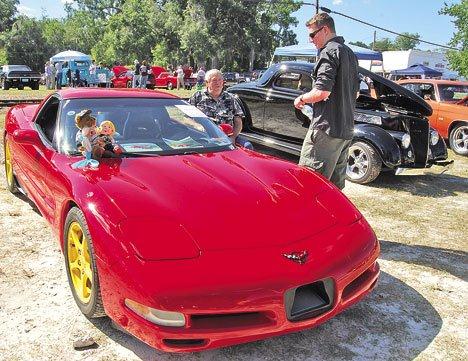 Bill Powell, seated next to his 2001 "torch red" Corvette, was one of 120 car-loving participants at the High Springs Rotary Club's 18th annual car show Saturday.
To Bill Powell, his 2001 "torch red" Corvette is more than just a car, it's a work of art.
It was a Valentine's Day gift from his wife, and he says it's the only way he knows to go 60 miles per hour while sitting down.
He was one of 120 car-loving participants at the High Springs Rotary Club's 18th annual car show last weekend.
Rotary Club president Heather Clarich said it was one of the best to date.
She credited the participation and spectator turnout to Saturday's beautiful weather and the avid local community support.
The event raised about $4,500 which the rotary club has already started to put to use around town. Some of the money, Clarich said, was donated to the Fisher House in Gainesville and to the High Springs Friends of the Library.
Another portion will go to buying food for the local Catholic Charities food bank, and as in years past, some may be used to serve either Thanksgiving or Christmas dinner to a family in need.
She also mentioned that any leftover money from the show might go to building a new hut for the local Boy Scout troop.
Classic American muscle cars, sport coupes and vintage trucks lined up revealing rows of hoods gleaming in the bright sun, clean enough for passersby to see their reflection in a spectrum of paint colors.
A city of Newberry fire truck from another era was parked just across the path from Powell and his Corvette, which was one of the younger specimens scattered throughout the area of mostly 20-plus-year-old vehicles.
When asked how he got into cars, Powell stood from the chair he had set up next to his yellow-rimmed 'vette and motioned toward the top of the car.
"Look at the contour of that roof," he said, "It looks like the back of a beautiful young lady."
He cited pop culture icon Andy Warhol in his belief that there's art in everyday objects.
Powell loves the sculptural aspects of automobiles, and he said he sees beauty in the internal components of an engine, too.
But his "red 'vette" isn't just for looking good. He races it at tracks all over Florida.
Local photographer Les Spielman had his red Corvette Stingray on display leaving little to the imagination as far as the likening of a car's curves to the appeal of the female figure.
Its unique reverse hood, opening away from the windshield rather than toward it, was propped open revealing a mostly nude woman painted across its underside.
Generally, the event was family-oriented; filled with oldies music that matched many of the cars and an abundance of food for sale.
Lucille Work couldn't get enough of the cars.
She was in High Springs visiting one of her sons, Thomas Work, who has an affinity for antique Harley Davidson motorcycles.
She travels from Connecticut yearly to see him and her to grandchildren here: 11-year-old Catherine and her brother Ryan, who is 7.
Her appreciation for all things motor stems in part from her brother, who owns two 1957 T-Bird convertibles, and her other son, who has a 1957 Ford Ranchero.
"I love it," she said, "It's a great show."