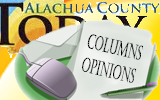 I never thought I'd be envious of a rodent, but groundhogs are on to something.
Punxsutawney Phil has it made — in fact all groundhogs have it made. It seems they only have to work one day a year. And then, only for a few minutes.
Maybe it's only Punxsutawney Phil that has to work, and the rest of the groundhog nation bask in his reflected glory.
Feb. 2 is right around the corner, and the day of the groundhog is fast approaching.
In keeping with tradition, good old Mr. P., as he is affectionately called, is not so affectionately extracted from his warm burrow by tuxedoed individuals, early in the morning in the dead of winter.
In my estimation, his job description includes, and is strictly limited to, standing on his hind legs while stretching his neck, blinking his eyes and wrinkling his nose in a most bewildered fashion.
It is believed by some, although I'm not certain who, that if it is a sunny day and Mr. P. sees his shadow, the remaining six weeks of winter will be stormy and cold.
But if it is raining or snowing, or otherwise simply a gloomy day, Mr. P. will most fortuitously not see his shadow and the remainder of winter will be mild.
Aside from the fact that this makes absolutely no sense whatsoever – sunshine brings stormy cold winter weather while rain and snow bring balmy temps – it must be equally as perplexing to the recently awakened groundhog.
Nonetheless, Phil's job is done and for this he has a day named in his honor.
Sure, it's not a holiday that means people get off work. Why, even the banks are open. But it is a day marked each year with the associated media frenzy due the coronation of a king.
In case you haven't mailed your Groundhog Day greeting cards yet, you can go online to a variety of sites and send e-cards to your closest and dearest friends. But be forewarned, you may have a tough time selecting only one card to send. With groundhoggy choices like "Me and My Shadow," "Ode to Groundhogs," "No Shadow of a Doubt," and "Just Poppin' Up," your work is cut out for you. Oh, what the heck, go ahead and choose them all - and send them all to your online friends. Won't they love you for remembering them in such a personal way on such an important occasion!
But you must act fast, because it will only be a matter of time before PETA becomes involved in what they will most assuredly characterize as crass commercialization and victimization of our groundhoggy friends. To forcibly disturb a hibernating mammal purely for the pleasure and monetary gain of reprehensible humans should not be tolerated.
And think of the psychological pressures placed on Phil to accurately prognosticate the weather. Why, there are highly educated meteorologists that daily are unable to perform this feat.
And we should expect a half-frozen groundhog in Philadelphia to accurately predict what the next six weeks of weather will offer in Florida?
What's next? Mr. P. tee-shirts and coffee mugs? Endorsement contracts with Quaker Oats and Nestle?
That may be a stretch, and frankly, that might be too much exertion on Mr. P.'s part.
He currently only works about 30 seconds a year, and he already enjoys celebrity status to boot.
Envious?
You bet.
Where do I sign up?